"Nobody has ever made good pictures faster or for less money than Edgar Ulmer. What he could do with nothing remains an object lesson for those directors, myself included, who complain about tight budgets and schedules"
--Peter Bogdanovich, Who The Devil Made It
​
All Day Entertainment is proud to celebrate the artistry of the graddaddy of independent film with this multi-volume collection of the works of Edgar G. Ulmer: a gifted artist whose stylish films envisioned implacable fate, corrupted families, and misfit heroes.
Exiled from Hollywood for romantic indiscretions, he was unable to find work in the traditional studios. Instead Ulmer found a home in "Poverty Row" where his ability to invoke Old World style on a shoestring budget made him a legend.
​
The deluxe 3-DVD anthology Edgar G. Ulmer: Archive is comprised of five feature films the B-movie maverick made between 1939 and 1957: Bluebeard, Daughter of Dr. Jekyll, Strange Illusion, Moon Over Harlem, and The Strange Woman--the latter features audio commentary from David Kalat and an exclusive video interview with Mr. Ulmer's wife. A bonus third disc contains previously unreleased special features: Ulmer's rarely seen Swiss Family Robinson television pilot and 1940 educational short film Goodbye Mr. Germ, as well as "making of" featurettes, original theatrical trailers, and photo galleries.
​
These definitive DVDs present Ulmer's best, films that have been all-but impossible to see for decades, digitally remastered from the finest film elements available in the world, assembled with the cooperation of The Edgar G. Ulmer Preservation Corporation.
​
Disc One Side A:
The Strange Woman 1946 • 99 mins
Stars Hedy Lamarr, George Sanders and Louis Heyward. Digital master from 35mm archival preservation positive, with the assistance of the Cinematheque Francaise. Includes audio commentary by film historian David Kalat, interview with Ulmer's widow, and photo gallery.
Disc One Side B:
Strange Illusion 1945 • 85 mins
Stars James Lydon, Sally Eilers, and Warren William. Digital master from 35mm archival preservation positive. Includes featurette The King of PRC, collection of original trailers for Ulmer's films, and photo gallery.
Disc Two Side A:
Bluebeard 1944 • 70 mins
Stars John Carradine, Jean Parker, and Ludwig Stossel. Digital master from the 35mm archival preservation positive with the assistance of the Cinematheque Francaise. Includes featurette Bluebeard Revealed with color footage from the set, and photo gallery.
Disc Two Side B:
Daughter of Dr Jekyll 1957 • 70 mins • letterboxed
Stars John Agar, Gloria Talbott, and Arthur Shields. Digital master from original 35mm fine grain master positive, letterboxed at original theatrical aspect ratio. Includes isolated music and effects soundtrack, interview with John Agar, interview with Arianne Ulmer Cipes, and photo gallery.
Disc Three:
Moon Over Harlem 1939 • 68 mins
Digital master assembled from best surviving elements. Includes introduction by Shirely Castle Ulmer, the 1958 pilot for Ulmer's proposed Swiss Family Robinson TV series, and the 1940s era short film Goodby Mr. Germ.
​
Modern day independent filmmakers generally make their mark with a low-budget debut, used as a calling card to gain entry into Hollywood's studio mainstream. But long before Robert Rodriguez, before Kevin Smith, before Neil LaBute, there was Edgar Ulmer--a man who left Hollywood behind, choosing instead the relative obscurity and financial restrictions of the independent "Poverty Row" producers.
​
Ulmer was born in what is now the Czech Republic, in 1904. He attended the Academy of Arts and Sciences in Vienna. Long before entertaining thoughts of directing films himself, Ulmer had a hand in the making of some of the most important and influential motion pictures in world cinema.
​
Ulmer got his start working on the set design of Paul Wegener's 1920 The Golem. He assisted F.W. Murnau on The Last Laugh, devising the very first ever tracking shot. Ulmer designed sets for The Cabinet of Dr. Caligari (1920), and G.W. Pabst's The Joyless Street (1925). He worked as a set designer for Fritz Lang on Metropolis, The Nibelungen, and Spies, before inventing the new post of Production Designer on M: this job entailed designing sets in perspective from each camera angle. If there were to be five shots in one room, then five different sets would be built of that room.
​
Ulmer also co-directed the film People on Sunday, a project whose other creators included Billy Wilder, Fred Zinneman, Robert Siodmak, and Eugen Schufftan. Before long, these great filmmakers fled the burgeoning Nazi regime to invigorate Hollywood with their gifts.Ulmer came to Hollywood to work at Universal as an art director for Erich von Stroheim. After six months, he was studying under William Wyler to become a director in his own right. The high point of his directorial career at Universal was 1934's The Black Cat, starring Boris Karloff and Bela Lugosi.
​
During this time, though, Ulmer had fallen in love with Shirley Kassler Alexander, then the wife of Max Alexander--nephew of Universal's head honcho Carl Laemmle Sr. Their affair destroyed Alexander's marriage and ignited the wrath of "Papa" Laemmle. For all intents and purposes, Ulmer had become a pariah at Universal as far through Hollywood as Laemmle's influence could reach.
​
Edgar and his new wife Shirley moved to New York, where the director found work making ethnic films--motion pictures designed for specialized ethnic audiences; Yiddish pictures like Green Fields, Ukranian films like Cossacks in Exile, or African-American features like Moon Over Harlem.
​
Former M producer Seymour Nebenzal knew Ulmer from the Golden Age of German cinema and asked his friend to join his newly formed independent studio Producers Releasing Corporation (PRC). Ulmer became fast friends with PRC producer Leon Fromkess (who eventually took over the studio) and a lasting alliance was formed.
Enough water had flowed under the bridge that Ulmer could have returned to the Hollywood mainstream if he chose to, but Ulmer feared being "ground up in the Hollywood hash machine." Poverty Row offered Ulmer creative freedom, and he became known as the "Capra of PRC."
​
Ulmer's work is similar in many ways to that of William Cameron Menzies. Both men trained as production designers, and their films display a minimalist touch and deep respect for the power of design. But while Ulmer could defy his budget limitations to make genre classics like Bluebeard, Detour, or The Man From Planet X, he also churned out programmers made simply to fit a bill--not everything could be a personal piece.
​
In the 1960's, Ulmer saw television killing off theatrical venues, and the B-movie market he had specialized in was hardest hit. He tried his hand at the boob tube, but found only frustration there. He suffered migraines, then strokes, and lost control of his body. Ulmer retired, his last film being The Cavern in 1965. He died in 1972 in California.
In his choice of low-budget filmmaking and constant struggle, over the comforts and prestige of Hollywood, neither Ulmer nor his family ever felt regret. In the end, he could always say that he did it his way.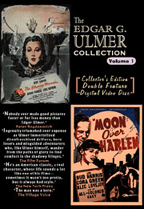 All of the Edgar G. Ulmer films included in the Archive DVD Collection were previously available from All Day as standalone releases.